Annual Firefighters Ball and Awards Banquet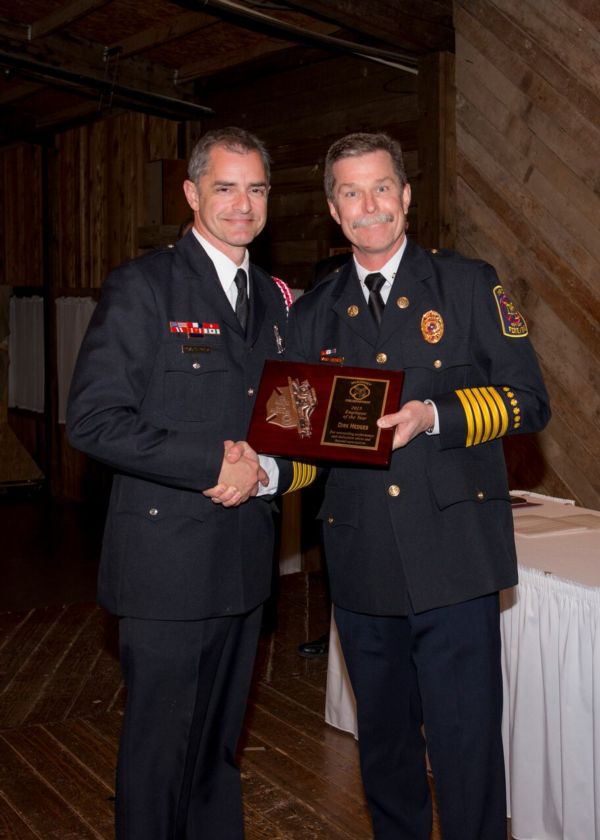 Employee of the Year, Dirk Hedges
The Annual Firefighters Ball and Awards Banquet was held on March 19 in McKinney Texas. The event included an awards presentation and MFD retirees receiving gold badges to honor their retirement. The Professional Fire Fighters of McKinney presented 12 MFD retirees with gold badges. The gold badges could not have been possible without the generous donations from the following sponsors: Pogue Construction, Encore Wire, Baylor Scott and White, Keller Williams - Nancy Floyd, Bob Tomes Ford, Eldorado Chevrolet, Texas Star Bank, Creative Touch, AFLAC, Linda Miller, and First Response Photography.
Rock Creek Ranch
Certificate of Appreciation- For their contribution and support of the 2016 Firefighter Banquet
Melissa Bird
Special Recognition Plaque- For her work and dedication to repurposing the McKinney Fire Department retired flags to honor veterans
Michael O'Keefe
Citizen's Recognition Award (Plaque)- For outstanding service to the community and the McKinney Fire Department by capturing our history in action with photography
Desiree Groves
Certificate of Appreciation- For dedication and commitment planning and coordinating the McKinney Fire Department annual banquet
Darrell Groves
Appreciation Plaque- For years of hard work, dedication and commitment to preserving the history of the McKinney Fire Department
Del Ray Pope and Ron Eernissi
Special Recognition Award (Certificate)- For outstanding Customer Service
Kevin Kennedy, Travis Irick, Kelly Rollins, Matt Mordecai, Dustin Todd, Duke Durham, Robert Leavitt and Juan Zapata
Distinguished Unit Award (Certificate and Merit Bar)- For outstanding performance and professionalism on a CPR save
Todd Simmons
Life Saving Award (Certificate and Valor Pin)- For life saving efforts on April 30, 2015 at the Saxon Woods Apartment Complex
Chris Harlow
Fire Service Recognition Bar (Plaque and Merit Bar)- For performance above and beyond expectations, both on and off duty
George Cook
Chief's Award (Plaque)- For commitment and dedication and for consistently working to improve the department
Dirk Hedges
Employee of the Year (Plaque)- For outstanding performance and dedication above and beyond expectations. For true service both on and off duty.
Gold Badges were presented to the following:
James Dockray
Neil Howard
Mark Anderson
John Wallace
Red McPeek
Mark Douglas
Steve Horton
Michael Stiltz
Andy Griffin
Barney Tucker
George Doan
Darrell Groves