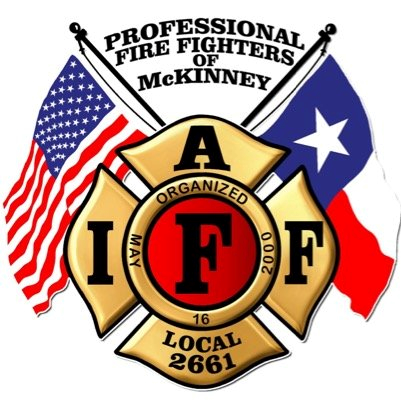 The Professional Fire Fighters of McKinney, IAFF Local 2661 became a chartered member of the IAFF on May 16th 2000. We started with 51 brothers and sisters who were committed to building a better fire department, protecting the rights and benefits of our members, serving our community, and to offering a brotherhood of fellowship to our members. We are now over 150 members strong!
Throughout the membership of the PFFM we have well over 1000 years of combined fire and emergency medical service experience. We strive to bring our knowledge and experience to bear on the problems encountered in such a fast growing department as the MFD. Our committment to the citizens we serve and the fire department we represent is evident in the professional manner in which our members work, train, and carry out the mission of the McKinney Fire Department.
Our committment to protect the rights and benefits of our members also includes exploring opportunities to provide new and/or improved benefits. We have been conducting meet and confer contracts with the City of McKinney since 2010, and our current contract is through 2017. We not only protect the community, but many of our members live and raise families here as well. The very nature of our proud profession dictates that we would strive to make our communities a better and safer place to live. The PFFM serves our community through several different events. We participate in the MDA Fill-the-Boot Program, our local golf tournament, coats for kids program, family night out, and our very own triathlon.
While we are always committed to taking care of our own, our brotherhood of fellowship extends beyond our membership to fire fighters across this great nation. In the wake of Hurricane Katrina, we raised over $1000 for the IAFF Fire Fighter Relief Fund. We also contribute at the first alarm level to the TSAFF's Relief & Scholarship Fund.
The Professional Fire Fighters of McKinney are committed to improving the safety and professionlism of the fire department, protecting the rights and benefits of our members, and making our community a better place to live and raise